Google Hangouts
Product Design
User Experience Design
Mobile App Design
↓
Challenge
Case study: Google Hangouts
objective
Define the goals of a product; align the user experience with these goals.
Outcome
A fun, friendship-first communication app that values the user's privacy and security while providing a relaxed platform to hangout with close friends.
Audience
Families, friends from college, anyone looking for a secure and intuitive platform for reaching out to close friends, bypassing mobile plans and tedious browsing of long contact lists.
Individual Contributions
Micro-interactions, Principle Prototype, Animation
Team
Ksenia Ivanoa, Theresa Utanto
Timeline
Eight weeks
Narrowing the Audience
Google Hangouts is an enormously powerful platform with numerous features for numerous audiences. Although we discovered significant business related use cases, we decided to focus on what we already have, which is the name, as well as the playful illustrative design language used throughout the existing app.
In user testing, We asked participants to perform three tasks. Find a friend, call a friend, and start a group chat.
Participants often had a difficult time initiating these simple interactions due to the challenge of simply finding their intended contact.
In addition, several participants expressed surprise and agitation over google's search feature, where any google user on earth has the ability to text and call anyone else with a gmail account by simply entering their name in the search bar.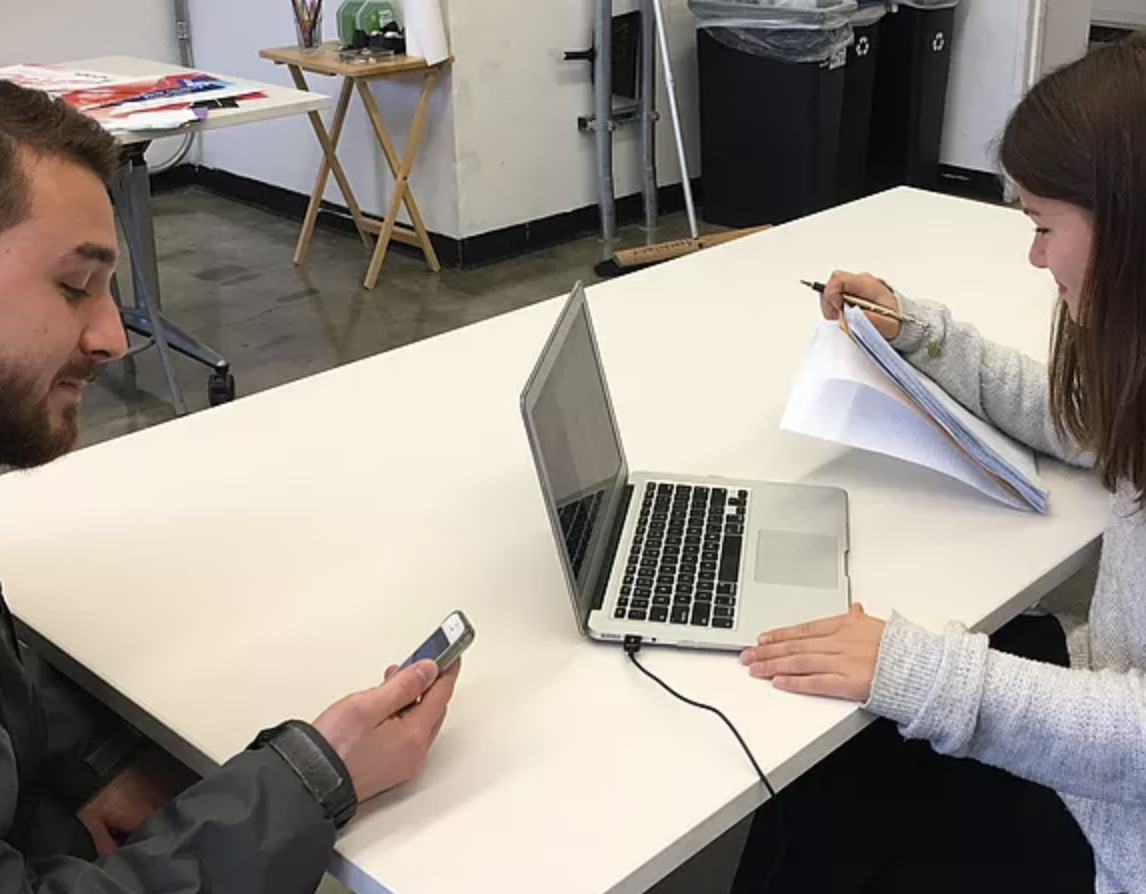 Key research findings
There are privacy concerns

Our main insight from our research was that users felt the platform was not private enough. Any google user in the world is welcome to search, then immediately reach out to, any other google user.
Current flows require too much oboarding

We identified the group chat function as one of the more confusing interactions. Users want to easily go from call to video, back to call again, depending on their surroundings.
Most common use-case is at odds with visual Language

Hangouts is popular among business people and those seeking to connect without over-using their expensive data plans. However, the name and visual language is designed to attract a younger audience, people who value quick access to their closest friends for casual concersations.
Design Principles
Must provide users a private, safe, and personal space

Allow task completion with as few clicks as possible

Micro-interactions are purposeful, and adhere to design principles

Provide users with a casual place to hangout with their friends
Motion studies
I wanted to find a micro-interaction for the main landing view that is playful and intuitive–the kind of interaction you'd expect when wanting to call/text a buddy super fast, on the go.
The Circle
The redesigned Google Hangouts app has a "friendship circle" landing view, where users can drag and drop their closest friends to initiate a conversation. Users also have the option for a tradition timeline view of all their messages.
Improved Privacy
Users must now have the option of denying any incoming messages from unapproved friends. This not only prevents unwanted initiations from strangers, but allows for a more easily accessible contact list.
People-first Group selection
Our improved group chat flow allows users to select their group of friends first, then decide which type hangout they'd like to initiate–group message or group video chat.
Full App Run-through
Google Hangouts : A place for you and your friends